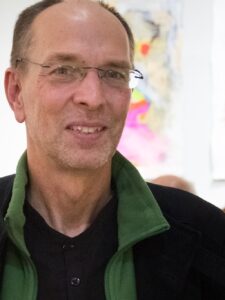 "In Canuto Kallan's works, the joy of creation comes to life through his spontaneity, imagination, and the free and improvisational way in which he handles the medium. His experimentations with colour and the way he feverishly applies it results in an intensity that extends far beyond the paintings' surface. The simplicity of his figures lends them liveliness and a rhythm which excites the viewers' eyes into a constant state of alertness and keeps their interest intact."
Canuto Kallan was born in 1960 in Copenhagen, Denmark. Before studying at the Athens School of Fine Arts, he graduated from the Technical College of Copenhagen as a cabinet-maker and was awarded the Silver Medal for Woodworking by the Queen of Denmark. In 1990, he graduated from the Technical University of Denmark as a Mechanical Engineer with a Master of Science in Engineering. With a scholarship from the Istituto Italiano and the Knud Højgaard Foundation, he attended classes in wood restoration at the Istituto per l Arte e il Restauro, Firenze.
2003 he graduated with distinction from the Athens School of Fine Arts, Integrated Master in Visual Arts, where he studied painting and printmaking.
During the 2010 FIFA World Cup South Africa™, he was invited to represent Denmark as one of five artists in the "2010 Fine Art" world art event and exhibition.
In November 2010 Canuto Kallan and the Danish musician Morten Carlsen started interdisciplinary cooperation transforming images to music and vice versa.
Until today, he has presented his work in 5 solo shows in Denmark and Greece and has participated in numerous group shows around the world. See more details in the section "Exhibitions".
The work of Canuto Kallan can be found in collections such as:
The Collection of Papadrielleiou Gallery (Komotini, Greece),
The Siena Art Institute (Siena, Italy),
The International Portrait Gallery of Tuzla (Tuzla, Bosnia and Herzegovina),
Frissira's Museum of Contemporary European Painting (Athens, Greece),
The Museum of Contemporary Art (Chania, Greece),
The Greek head office of Burmeister & Wain – ΜΑΝ (Piraeus, Greece),
The Hotel Creta Maris (Crete, Greece),
The Gyarfas Jeno Gallery (Sfantu Gheorghe, Rumania),
The Hotel Knossos Beach (Crete, Greece),
The head office of Postscriptum (Athens, Greece),
The Municipal Gallery "Yiannis Moralis" of Arta (Greece),
The Copelouzos Family Art Museum (Athens, Greece) and private collections worldwide.
Canuto Kallan is a member of the Greek Chamber of Fine Arts and the art group "aná".
He lives and works in Athens.